Rion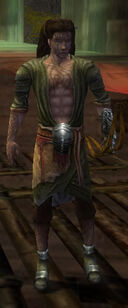 Classification
General
Rion is the captain of the Halcyon. He is involved in several quests and can be found in Boreas Seabed.
Quests Involved In
Location
Skills Used
Dialogue
"You must be the one Elora told us about. I'm Captain Rion of the Halcyon. Good to meet you."
Quotes
During battles:
"Come get some, freaks!"
"Consider yourself cast out, Outcast!"
"You've definitely picked the wrong day to attack me!"
Trivia
He appears to be based off Captain Malcolm Reynolds from the TV show "Firefly" and movie "Serenity" as evidence by his quotes and crew.
Rion's name means 'hunter' in Greek.
Ad blocker interference detected!
Wikia is a free-to-use site that makes money from advertising. We have a modified experience for viewers using ad blockers

Wikia is not accessible if you've made further modifications. Remove the custom ad blocker rule(s) and the page will load as expected.