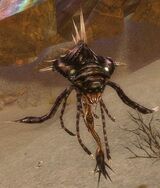 Riders are magical creatures that resemble a floating jellyfish with a thorny shell, multiple tentacles, spider-like eyes and a gaping mouth below the shell. They were first unleashed upon the earth by Sybitha, a power-mad mage mentioned in the quest The Ranger's Path.
Characteristics
Riders tend to be very fragile physically, but also tend to be lethal spell casters. With the exception of Smoke Walkers, all riders in the game are Mesmers and a pack of more then 3 will make any party think twice as they excel in interrupts, hexing, health degeneration or energy draining, or a combination of these techniques.
On the weakness side, keep in mind that Riders ...
Items dropped
Riders may drop the following loot (besides gold and various weapons and items):
Known Sub-Types
Riders can be found all over Tyria except in the Shiverpeak Mountains.
For an alphabetic list of all Riders, including bosses, see also: Category:Riders
Ad blocker interference detected!
Wikia is a free-to-use site that makes money from advertising. We have a modified experience for viewers using ad blockers

Wikia is not accessible if you've made further modifications. Remove the custom ad blocker rule(s) and the page will load as expected.