Resplendent Makuun

Basic Info
Neighbor(s)
Honur Hill, Bokka Amphitheatre, Yahnur Market, Wilderness of Bahdza
Map

(click to enlarge)
General Information
Resplendent Makuun is an Explorable area in Vabbi under the control of Prince Bokka the Magnificent. In the center stands his palace, a seat of art and culture, surrounded on all sides by monster-infested wilderness. To the south is a system of valleys overrun by Harpies; in the northwest, explorers can find a cave filled with Elementals.
Outposts & Cities
Shrines and Blessings
Exits / Neighbour Areas
Quests
Resplendent Makuun
Creatures
NPCs
Monsters
Bosses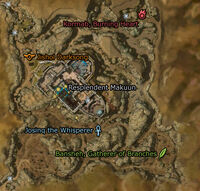 Animal Companions
Notes
Vanquisher Title: 157-176 foes. Having the quest Guard Rescue active adds approximately 30 additional foes.
In Hard Mode, Josinq the Whisperer and Kormab, Burning Heart are the most difficult foes of the area. A good plan is to kill Josinq immediately, as you will need all your strength in order to defeat him in one go, otherwise he'll heal and resurrect all his party before you can come for a second strike.
---
Ad blocker interference detected!
Wikia is a free-to-use site that makes money from advertising. We have a modified experience for viewers using ad blockers

Wikia is not accessible if you've made further modifications. Remove the custom ad blocker rule(s) and the page will load as expected.