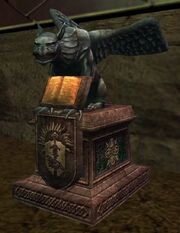 Research Journals are interactive objects found during the Bonus Mission Pack quest The Flight North.
Description
After killing the Siege Devourer and escaping into the tunnels, you will find four of these Research Journals as you help the Ascalonian spirits escape from the ghostly Charr. Each one will teach Gwen a new skill.
First journal:
Second journal:
Third journal:
Fourth journal:
Notes
The author of the journals is likely "Velise", mentioned by the spirit of Scarlot during the quest.
Ad blocker interference detected!
Wikia is a free-to-use site that makes money from advertising. We have a modified experience for viewers using ad blockers

Wikia is not accessible if you've made further modifications. Remove the custom ad blocker rule(s) and the page will load as expected.