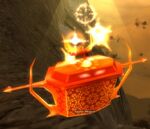 Relics are items found in certain locations of the Global Tournament and are the main focus of the Capture the Relic game. There are two different colorings of relics: red and blue, each with gold trim. Relics are identical to the Ancient Weapon, which, in turn, is identical to the Resurrection Orbs. As a bundle, carrying a relic slows one's movement speed, and the bearer cannot make use of any weapons or weapon based skills until the relic is dropped.
Ad blocker interference detected!
Wikia is a free-to-use site that makes money from advertising. We have a modified experience for viewers using ad blockers

Wikia is not accessible if you've made further modifications. Remove the custom ad blocker rule(s) and the page will load as expected.