Rei Ming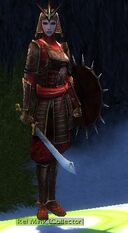 Classification
Dialogue
"Perhaps you have not heard, but all members of the Crimson Skull guild have been declared outlaws by the emperor for acts of murder, banditry, arson, and sedition against the Empire. In fact, there is a bounty for veteran members of the guild. If you bring me 3 Silver Crimson Skull Coins, I will give you this in return:"
Collector Items
Rei Ming
Location: In Jaya Bluffs, just outside of Seitung Harbor.
Collecting: 3 Silver Crimson Skull Coins
Ad blocker interference detected!
Wikia is a free-to-use site that makes money from advertising. We have a modified experience for viewers using ad blockers

Wikia is not accessible if you've made further modifications. Remove the custom ad blocker rule(s) and the page will load as expected.