Ad blocker interference detected!
Wikia is a free-to-use site that makes money from advertising. We have a modified experience for viewers using ad blockers

Wikia is not accessible if you've made further modifications. Remove the custom ad blocker rule(s) and the page will load as expected.
Redemptor Kurcheck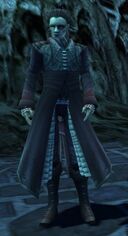 Classification
Dialogue
"The saints smile upon our unending war with the Luxons. Through faith alone we will prevail against them. Have you faith, young one? Bring me trophies of our enemy to prove your faith in our cause. Retrieve for me 5 Luxon Pendants in return for:"
Collector Items
Redemptor Kurcheck
Location: House zu Heltzer
Collecting: 5 Luxon Pendants