Description
A type of scythe which can be found in the Eye of the North expansion. Its blade is shaped like a raven's head. The head has a slightly iridescent sheen, as though it is inlaid with mother of pearl.
Location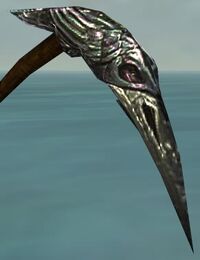 Dye
The grip and the bill can be dyed, but only white dye appears to make a significant change. Otherwise, the resulting color is very dark - near black.
Notes
Other items with this appearance:
If light hits this scythe at the right angle, it will produce a highlighting streak across the head. If this passes through the eyes, it produces an effect much like polished Tiger's eye.
Ad blocker interference detected!
Wikia is a free-to-use site that makes money from advertising. We have a modified experience for viewers using ad blockers

Wikia is not accessible if you've made further modifications. Remove the custom ad blocker rule(s) and the page will load as expected.