Rastigan the Eternal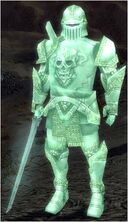 Classification
General
Rastigan the Eternal is a champion of Balthazar found at the entrance to the Fissure of Woe. He is leading the Eternal army in a bid to recover the Tower of Courage.
Quests Given
Location
Notes
Rastigan will not attack foes.
His weapon is an Eternal Blade
He has the same appearance as the Champion of Balthazar.
If he is killed, the party will be kicked out of the Fissure.
He appears to be wearing Platemail with the exception of his chest piece which depicts a skull.
Ad blocker interference detected!
Wikia is a free-to-use site that makes money from advertising. We have a modified experience for viewers using ad blockers

Wikia is not accessible if you've made further modifications. Remove the custom ad blocker rule(s) and the page will load as expected.