Rasmus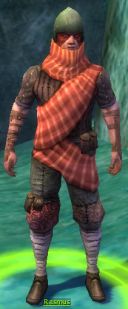 Classification
General
Rasmus is found in the Luxon capital, Cavalon.
Location
Dialogue
"It was 200 years ago that the Jade Wind transformed the world. Since that time the magical jade and amber created by the Jade Wind have served our people well. Combining the two materials has allowed us to grow our beasts of burden to enormous size. Without amber and jade the Luxon way of life would be no more."
Ad blocker interference detected!
Wikia is a free-to-use site that makes money from advertising. We have a modified experience for viewers using ad blockers

Wikia is not accessible if you've made further modifications. Remove the custom ad blocker rule(s) and the page will load as expected.