Rand Stormweaver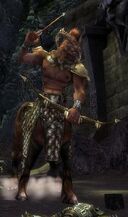 Classification
Description
Rand Stormweaver is a Modniir that can be found in the elite dungeon, Slavers' Exile. He is one of five Boss-like foes that must be defeated as part of the quest The Last Hierophant.
Location
Skills used
Notes
A dungeon chest will spawn upon defeating this boss and his accompanying group of monsters containing one item: a gold weapon, Unique Item, Onyx Gemstone, or Diamond.
He has two ranger blocking stances which make him difficult to hit in melee without stance-ending skills such as Wild Blow.
Spiteful Spirit, Empathy and Pain Inverter are also excellent choices, as each takes effect multiple times when he uses Barrage.
Ad blocker interference detected!
Wikia is a free-to-use site that makes money from advertising. We have a modified experience for viewers using ad blockers

Wikia is not accessible if you've made further modifications. Remove the custom ad blocker rule(s) and the page will load as expected.