Ramtha Brokenhoof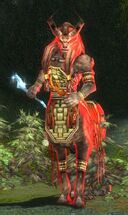 Classification
Map(s)


The Wilds
Description
Ramtha Brokenhoof is a Maguuma Avenger boss, and the leader of the Maguuma centaurs. He resides in a Maguuma centaur-occupied area of the Wilds, and is heavily guarded due to his status and current negotiations with the Shiverpeak centaurs. He and Horm Frostrider are working towards an anti-human alliance.
Location
Skills used
Items dropped
Ad blocker interference detected!
Wikia is a free-to-use site that makes money from advertising. We have a modified experience for viewers using ad blockers

Wikia is not accessible if you've made further modifications. Remove the custom ad blocker rule(s) and the page will load as expected.