Ralph Bronwell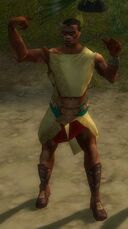 Classification
General
Ralph Bronwell is John Bronwell's brother and can be found together with him, Mary Farson and Gavin in Talmark Wilderness where they are accepted as recruits into the Shining Blade.
He's the dumber of the two brothers.
Location
Dialogue
"Sir! Yes, sir! Oh, sorry, I thought you were one of the instructors. John told me if I just yell, "Sir! Yes, sir!" whenever someone is done talkin' to me, I should do fine. I'm tryin' to get all this learnin' out of the way so I can get to the killin' Mantle part."
Notes
Ad blocker interference detected!
Wikia is a free-to-use site that makes money from advertising. We have a modified experience for viewers using ad blockers

Wikia is not accessible if you've made further modifications. Remove the custom ad blocker rule(s) and the page will load as expected.