Quartermaster Hector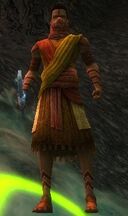 Classification
General
Quartermaster Hector is in charge of receiving supplies at the Luxon frontline.
Quests Involved In
Location
Skills used
Notes
Hector is the quest reward NPC for the quest Luxon Supply Lines, and the goal of that quest is solely to reach him. With a Minion Master, it is easy to "drag" him away from his post, as he will continuously follow you to heal the minions. Aside from the boon of having an extra monk, once the supply line quest is accepted, the supplies can be given to him immediately to easily avoid the large number of Kurzick mobs.
Dialogue
"The Luxons have always been self-reliant, but only fools spurn an offer of honest help."
Ad blocker interference detected!
Wikia is a free-to-use site that makes money from advertising. We have a modified experience for viewers using ad blockers

Wikia is not accessible if you've made further modifications. Remove the custom ad blocker rule(s) and the page will load as expected.