This article is about a part of Guild Wars that has been removed from the game .

Please see the history of this article for further information.

Pygmy Hippopotamus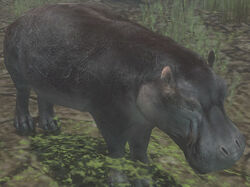 Classification
Description
Pygmy Hippopotami were animals that could be charmed as a ranger's pet. Pygmy Hippopotami rise to about the waistline of a player character.
Locations
None (removed from the game)
Trivia

Historical note: Pygmy Hippos were found in Lahtenda Bog during the Guild Wars Nightfall World Preview Event, but these have since been replaced with crocodiles in the final release of Nightfall.
According to Gaile Gray the reason was technical, not because hippos are a threatened species (as suggested at the IUCN Red List).
External links
The Scribe describes Pygmy Hippopotami.
[1] - Gaile Gray's comment regarding the removal.
Ad blocker interference detected!
Wikia is a free-to-use site that makes money from advertising. We have a modified experience for viewers using ad blockers

Wikia is not accessible if you've made further modifications. Remove the custom ad blocker rule(s) and the page will load as expected.