Pudash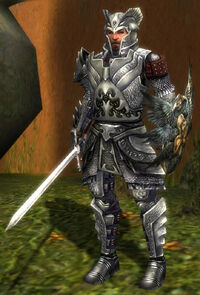 Classification
Description
Pudash is the Swordsman henchman available in Guild Halls.
Location
Dialogue
Hey, watch where you're going! You almost walked right into me. Haven't you got eyes in your head, you fool?
You'd better make sure to shape up if you want me to help you out in there.
Take a look at my skills, maybe you'll learn a thing or two:
Skills used
Evaluation
Trivia
---
Ad blocker interference detected!
Wikia is a free-to-use site that makes money from advertising. We have a modified experience for viewers using ad blockers

Wikia is not accessible if you've made further modifications. Remove the custom ad blocker rule(s) and the page will load as expected.