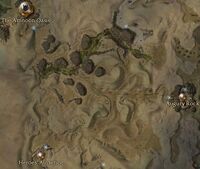 General Information
Area Name: Prophet's Path
Region: Crystal Desert
General Description: Prophet's Path is an explorable area in the west of the Crystal Desert. This first taste of the desert offers a harsh welcome: group after group of burrowed devourers and scarabs to waylay the careless party. The area includes four pairs of two-way teleporters and is divided into three sections, which can only be crossed via two of these teleporters.
Exits / Neighbour Areas
Outposts:
Sections Within Prophet's Path:
Bestiary
Monsters
Losaru Centaurs
Others
Bosses
NPCs
Collectors:
Skill Capture
Notes
To receive credit for the Vanquisher title track in this area you must defeat 214-319 monsters in Hard Mode. It is recommended to vanquish from the south and work northward. Some of the groups north of the green area are pop-ups and a complete vanquish can be achieved without venturing near Amnoon Oasis.
Builds that depend on long lasting enchantments (Attunements for example) are often useless when vanquishing the area, as several monsters have AoE enchantment removal skills, and attack in swarms.
Ad blocker interference detected!
Wikia is a free-to-use site that makes money from advertising. We have a modified experience for viewers using ad blockers

Wikia is not accessible if you've made further modifications. Remove the custom ad blocker rule(s) and the page will load as expected.