Prison Keeper Shelkesh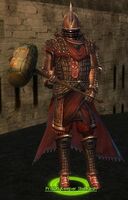 Classification
General
Prison Keeper Shelkesh is a member of the Kournan military.
Location
Skills used
Dialogue
(Before talking to Vault Master Eijah): Vault Master Eijah owes me lunch for a year! He said we'd never be rid of Kormir, but soon she'll be nothing more than a memory. I wish I could go taunt him about our bet, but I can't leave my post. Hey, could you go to the vault and rub it in for me?
(After talking to Vault Master Eijah): I wasn't notified of anyone that needed access besides the executioner. Unless you have the code, I'll have to clear it.
Choices (after talking to Vault Master Eijah):
"We're fully authorized. We have the password. It's twenty-one-eight-seven.
or
"Uhm, the password.... Right...hmm.... Yeah. Isn't it...er...Blue harvest?
Ad blocker interference detected!
Wikia is a free-to-use site that makes money from advertising. We have a modified experience for viewers using ad blockers

Wikia is not accessible if you've made further modifications. Remove the custom ad blocker rule(s) and the page will load as expected.