Priestess Siara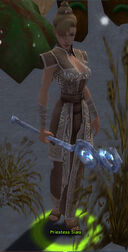 Classification
Location
Dialogue
Grenth's nightmares are busy doing his work, spreading fear and darkness wherever they go. Find and destroy them, and help Dwayna gain a foothold over Grenth. If you gather 1 Shadowy Remnants and bring them to me as proof of their destruction, I will give you this in return:"
Collector items
Collecting: 1 Shadowy Remnants
Ad blocker interference detected!
Wikia is a free-to-use site that makes money from advertising. We have a modified experience for viewers using ad blockers

Wikia is not accessible if you've made further modifications. Remove the custom ad blocker rule(s) and the page will load as expected.