Priest Erwin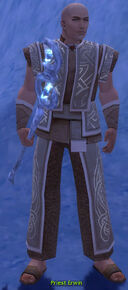 Classification
Priest Erwin is a monk who is hoping you can help turn the tide for Dwayna this season.
Dialogue
"The Grawl have never participated in the Wintersday festival, but this year, they seem bound and determined to keep us from participating, as well! I can't help but wonder if they didn't make a pact with Grenth to help keep Dwayna away a bit longer. Already they have been seen tearing down decorations, attacking caravans filled with gifts from the Shiverpeaks, and causing all sorts of mischief. If you gather 2 Ornate Grawl Necklaces and bring them to me as proof that you have disrupted their attacks, I will give you this in return:"
Collector Items
Location: Ascalon City (only during Wintersday event, standing near the Wintersday tree across from Necromancer Malaise)
Collecting: 2 Ornate Grawl Necklaces
Ad blocker interference detected!
Wikia is a free-to-use site that makes money from advertising. We have a modified experience for viewers using ad blockers

Wikia is not accessible if you've made further modifications. Remove the custom ad blocker rule(s) and the page will load as expected.