Pobehr
Classification
Dialogue
"Help me! I can't go back to him empty-handed. He's big and mean and scary... really, really scary. Can you please help me? I just need a few more tongues and then maybe that big bully will leave me alone. If you could get 5 Heket Tongues for me, I'll be your best friend for life. I'll even give you my most prized possession:"
Collector Items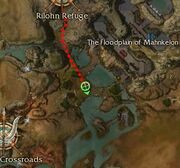 Pobehr
Location: The Floodplain of Mahnkelon (south by southeast from Rilohn Refuge)
Collecting: 5 Heket Tongues
Ad blocker interference detected!
Wikia is a free-to-use site that makes money from advertising. We have a modified experience for viewers using ad blockers

Wikia is not accessible if you've made further modifications. Remove the custom ad blocker rule(s) and the page will load as expected.