Plurgg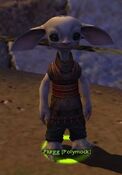 Classification
General
Polymock player.
Location
Dialogue
"Do you really think you stand a chance at defeating me in Polymock? I could beat you blindfolded with both arms tied behind my back, using my ears to control my pieces"
Rewards
Notes
In the second round vs. Plurgg in Vlox's Falls, a good strategy is to use the Gargoyle first, followed by the Skale second, and lastly the Fire Imp.
Plurgg can be the hardest to beat, due to the limited pieces at your disposal.
If you're a monk be careful of failure as you could unintentionally heal Plurgg, if you're casting when you die.
If you are lagging, interrupts are almost useless making Plurgg almost unbeatable.