What drops it
Collectors
Armor collectors
Location: Bukdek Byway, east out of The Marketplace, past Minister Onghsang
Collecting: 5 Plague Idols
General collectors
Location: Shenzun Tunnels, near exit to Nahpui Quarter
Collecting: 5 Plague Idols
Location: The Undercity, a few steps west from Vizunah Square (local) portal
Collecting: 5 Plague Idols
Location: West side of Wajjun Bazaar, along the docks
Collecting: 5 Plague Idols
Farming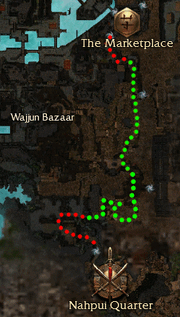 Notes
This drop seems to be inspired by the fact that, as mentioned often in the storyline, the Am Fah worship the plague. These seem to be the idols they have crafted to worship the plague.
Ad blocker interference detected!
Wikia is a free-to-use site that makes money from advertising. We have a modified experience for viewers using ad blockers

Wikia is not accessible if you've made further modifications. Remove the custom ad blocker rule(s) and the page will load as expected.