Pitney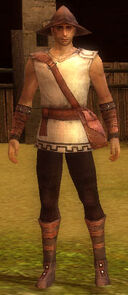 Classification
Pitney is a farmer in Ashford Village. His farm seems to be plagued with all sorts of troubles, yet still he battles on.
Location
Quests Given
After the Searing, Pitney becomes an armsman for the Vanguard, vengeful about the destruction wrought.
Location
Quests Given
Dialogue
"We've no choice but to drive these Charr devils back to where they came from. After what they did to Ashford, they'll get no quarter from the likes of me!"
Ad blocker interference detected!
Wikia is a free-to-use site that makes money from advertising. We have a modified experience for viewers using ad blockers

Wikia is not accessible if you've made further modifications. Remove the custom ad blocker rule(s) and the page will load as expected.