Pietro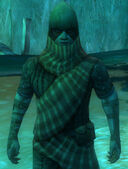 Classification
Dialogue
"It is nice to meet a fellow wanderer out here. If you have the time to help a stranger I might have a proposition that would interest you. Truth be told, I have been a little on the outs with the misses [sic] as of late and am looking to get back in her good graces. I had a friend recommend that I find some Black Pearls to give to my wife as a gift, but what he didn't tell me was that they tend to be guarded by strange sea creatures. If you can track some down for me I would be willing to offer you something in return. How about it stranger? Find me 5 Black Pearls, and I will give you one of these:"
Collector Items
Pietro
Location: Gyala Hatchery outside the northern exit of Leviathan Pits
Collecting: 5 Black Pearls
Ad blocker interference detected!
Wikia is a free-to-use site that makes money from advertising. We have a modified experience for viewers using ad blockers

Wikia is not accessible if you've made further modifications. Remove the custom ad blocker rule(s) and the page will load as expected.