Orozar Highstone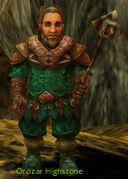 Classification
General
Orozar Highstone (sometimes simply referred to as Oro) is the Deldrimor Minister of Affairs and a close aide to King Jalis Ironhammer. His brother, Ural Highstone, has decided to join the Stone Summit and Orozar is trying to find and stop him.
Quests Given
Quests Involved In
Location
Skills used
Prophecies
Eye of the North
Ad blocker interference detected!
Wikia is a free-to-use site that makes money from advertising. We have a modified experience for viewers using ad blockers

Wikia is not accessible if you've made further modifications. Remove the custom ad blocker rule(s) and the page will load as expected.