Oroku
Classification
Map(s)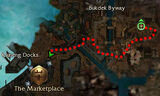 Location in Bukdek Byway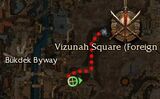 Location starting from
Vizunah Square (Foreign Qtr)
General
Oroku is an armor crafter. She offers Krytan armor for the Core professions and Imperial armor for the Assassin and Ritualist.
Location
Armor sets
Body armor
Headgear
Warrior Helms

Ranger Masks

Monk Scalp Designs

Necromancer Scar Patterns

Mesmer Masks




Elementalist Auras

Assassin Masks

Ritualist Headwraps
Notes
Oroku can be difficult to reach, as she is surrounded by various Jade Brotherhood and Am Fah mobs, including multiple bosses. However, there is a route from The Marketplace that includes no bosses and has two resurrection shrines along the way, making the trip quite achievable (see route image).
The platform she is on is the same one Nika is found at during the quest Finding The Oracle; if you desire her armor, you can combine the crafting trip with the quest visit.
A shorter, less troublesome route is available from Vizunah Square (Foreign Quarter).
Ad blocker interference detected!
Wikia is a free-to-use site that makes money from advertising. We have a modified experience for viewers using ad blockers

Wikia is not accessible if you've made further modifications. Remove the custom ad blocker rule(s) and the page will load as expected.