Ordash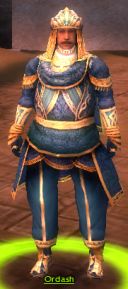 Classification
General
Ordash is a retired soldier who knows Prince Ahmtur the Mighty. He is now a merchant who, unfortunately, ran out of stock.
Quests Involved In
Location
Dialogue
"Ahai! I am a merchant by trade, but I'm afraid I'm out of stock at the moment, what with all the heket attacks we've had lately. Perhaps you'd like to come back later?"
Ad blocker interference detected!
Wikia is a free-to-use site that makes money from advertising. We have a modified experience for viewers using ad blockers

Wikia is not accessible if you've made further modifications. Remove the custom ad blocker rule(s) and the page will load as expected.