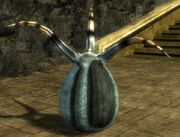 General
Oozes are a type of monster introduced in Guild Wars: Eye of the North, where they appear in several dungeons.
Types
Notes
Oozes do not leave corpses and are not considered fleshy. Oozes are most vulnerable to Fire damage.
Trivia
Ooze appear to be based on the Ooze monsters in Dungeons and Dragons, and the Gels in The Legend of Zelda Series.
Miniature
---
Ad blocker interference detected!
Wikia is a free-to-use site that makes money from advertising. We have a modified experience for viewers using ad blockers

Wikia is not accessible if you've made further modifications. Remove the custom ad blocker rule(s) and the page will load as expected.