Onar Ironblood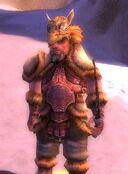 Classification
Map(s)

Location in Talus Chute
General
Onar Ironblood is part of the Seeking the Seer quest. He's only present when the quest is active. He is found in Talus Chute, past Korg the Scout, around a mountain, and across a bridge.
Quests Involved In
Location
Notes
If you can already map to Ice Caves of Sorrow it is easiest to reach Onar from there, he's just down the hill outside the west gate.
Ad blocker interference detected!
Wikia is a free-to-use site that makes money from advertising. We have a modified experience for viewers using ad blockers

Wikia is not accessible if you've made further modifications. Remove the custom ad blocker rule(s) and the page will load as expected.