Ohtah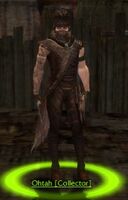 Classification
Dialogue
"It shames me to admit it, but I was once a member of the Am Fah. I left the guild years ago, but I have continued to follow their doings, and I still have some acquaintances within the guild. Their latest activities have me rather concerned. They have given themselves over to a new "religion", and I fear they will not be satisfied until they have converted or killed every last living soul in Cantha. It has become an obsession of theirs, and frankly, I am not even sure I would call them human any more. To atone for my past involvement with the Am Fah, I have made it my duty to destroy these... monsters. If you would consider helping me, I can offer you an incentive. Bring me 5 Plague Idols, and I will give you this in return:"
Collector Items

Ohtah
Location: The Undercity, a few steps west from Vizunah Square (local) portal
Collecting: 5 Plague Idols
Ad blocker interference detected!
Wikia is a free-to-use site that makes money from advertising. We have a modified experience for viewers using ad blockers

Wikia is not accessible if you've made further modifications. Remove the custom ad blocker rule(s) and the page will load as expected.