Oakheart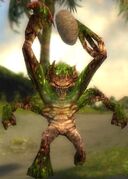 Classification
Description
Oakheart are large, tree-like creatures that attack by hurling huge rocks. They will use Power Shot repeatedly, and always keep up an Energizing Wind to help them. Most often seen in groups with a couple Spined Aloe to provide them some healing. Like other plant-based creatures, they take extra damage from Fire-based attacks.
Location
Skills used
Monk:
Ranger:
Items dropped
Ad blocker interference detected!
Wikia is a free-to-use site that makes money from advertising. We have a modified experience for viewers using ad blockers

Wikia is not accessible if you've made further modifications. Remove the custom ad blocker rule(s) and the page will load as expected.