Description
The Norn Spear is a spear crafted at Gunnar's Hold by Keti. To be able to craft it, the character must have rank 4 in the Norn Title Track.
Weapon stats
Piercing Dmg: 14-27 (req. 9 Spear Mastery)
Inscription: None
Location
Dye
Dye will change the color of the entire handle of the spear and the yellow parts of the design on the spear's head, with the exception of white dye, which dyes the entire spear white.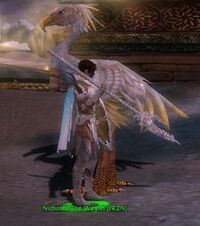 Trivia
Initially, just after GW:EN was released, this spear flew through the air butt first when thrown, its head facing the wielder. Also, when held by a Paragon, the head of the spear was upside down (see the white dye picture). It is possible that this was a bug and related to why the spear was thrown backwards.

Ad blocker interference detected!
Wikia is a free-to-use site that makes money from advertising. We have a modified experience for viewers using ad blockers

Wikia is not accessible if you've made further modifications. Remove the custom ad blocker rule(s) and the page will load as expected.