Nobleman Emrah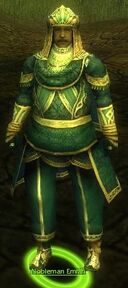 Classification
General
Nobleman Emrah is part of the group of Vabbian nobles visiting Istan. He insists on taking a closer look at the "real Istani countryside" even after the warning from Clerk Arlon on the dangers.
Dialogue
"I'm excited about seeing more of this picturesque province. Some of its charm almost rivals Vabbi; if only it weren't so primitive...."
Location
Ad blocker interference detected!
Wikia is a free-to-use site that makes money from advertising. We have a modified experience for viewers using ad blockers

Wikia is not accessible if you've made further modifications. Remove the custom ad blocker rule(s) and the page will load as expected.