Nikun
Classification
Dialogue
Boo! I'll eat your face! Hahaha... did I scare you,? [sic] Oh, stop pouting, it's just a joke. I'm not a cannibal. This thing? It's a Margonite mask. I'm hosting a theme party and all guests are required to hide their true identities. It'll be quite the night of dancing, drinking, eating, more drinking, and indulging in life's... other pleasures. Through the veil of anonymity, my guests won't be chained by inhibition. Otherwise, what kind of celebration would that be? Here's where you come in. I need you to slaughter some Margonites. Bring me 5 Margonite Masks and, while I won't invite you to the party, (I've got standards, you know), I WILL give you:"
Collector Items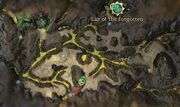 Nikun
Location: The Shattered Ravines, near the portal to Joko's Domain
Collecting: 5 Margonite Masks
Ad blocker interference detected!
Wikia is a free-to-use site that makes money from advertising. We have a modified experience for viewers using ad blockers

Wikia is not accessible if you've made further modifications. Remove the custom ad blocker rule(s) and the page will load as expected.