Nighh SpineChill

Classification
Map(s)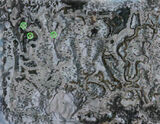 Possible spawn locations
in Talus Chute
Description
Nighh SpineChill is a Nightmare boss, spawning in Talus Chute and accompanied by Azure Shadows.
Location
Skills used
Items dropped
Notes
He shares three spawn locations with three other bosses, so he may not always spawn.
Most players consider this boss to be the best to capture Spiteful Spirit from, due to his possible spawn right outside the door of Camp Rankor.
Ad blocker interference detected!
Wikia is a free-to-use site that makes money from advertising. We have a modified experience for viewers using ad blockers

Wikia is not accessible if you've made further modifications. Remove the custom ad blocker rule(s) and the page will load as expected.