Nermak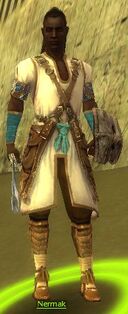 Classification
General
Nermak can be found at the Gate of Desolation.
Location
Dialogue
"Nothing like the smell of sulfur in the morning! This is paradise!"
Trivia
The sulfur quote is probably a nod to the Francis Ford Coppola movie, Apocalypse Now, in which the character Lieutenant Colonel Bill Kilgore quips, "Nothing else in the world smells like that. I love the smell of napalm in the morning."