Nehtohn Ehmbahrsin
Classification
Map(s)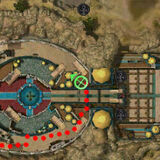 (click to enlarge)
General
Nehtohn Ehmbahrsin is a Vabbian who is hard of hearing.
Location
Dialogue
"I met my wife in these gardens. Nothing as romantic as a party or a gathering of nobles. She was a traveling musician with absolutely no talent. I was tone deaf. It was a match made in the Mists."
Quotes
"I like to sit in the garden when the sun sets and remember my wife. I pretend she's playing her lute.... I couldn't hear it then, either, so it sounds just the same."
"What's that you say? You have to speak up. My hearing's not what it used to be."
Ad blocker interference detected!
Wikia is a free-to-use site that makes money from advertising. We have a modified experience for viewers using ad blockers

Wikia is not accessible if you've made further modifications. Remove the custom ad blocker rule(s) and the page will load as expected.