Necrid Horseman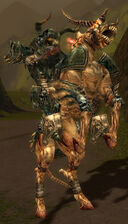 Classification
Description
An undead necromancer riding an undead horse. They are usually found in patrols with Hellhounds.
Location
Skills used
Normal mode
Hard mode
Items dropped
Notes
Though they are undead, Necrid Horsemen are fleshy creatures and leave exploitable corpses.
They have 20 in Curses in Hard Mode.
Miniature

---
Ad blocker interference detected!
Wikia is a free-to-use site that makes money from advertising. We have a modified experience for viewers using ad blockers

Wikia is not accessible if you've made further modifications. Remove the custom ad blocker rule(s) and the page will load as expected.