Nav Sharpquill

Classification
Map(s)

(click to enlarge)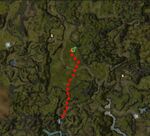 (click to enlarge)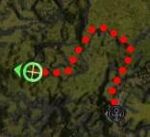 (click to enlarge)
Description
Nav Sharpquill is a warrior boss of the Caromi Tengu that can be found in the western part of the North Kryta Province, by the road about half way from Lion's Arch to the Ascalon Settlement. He may spawn on a little plateau on the left side of the road just east of the collector Wintun the Black (who is standing in front of a windmill), or a little to the south-east of this location on the other side of the road next to a cliff wall, or thirdly in the far South West corner of the area. He shares spawn locations with the others Tengu bosses.
Location
Skills used
Items dropped
Notes
If you're a warrior, then Nav Sharpquill is a good target for your first Signet of Capture in the quest Malaquire's Test. Nav offers the skill Riposte, which is not an elite skill, but not available from Skill Trainers or quests until much later in the game, in the Southern Shiverpeaks.
Ad blocker interference detected!
Wikia is a free-to-use site that makes money from advertising. We have a modified experience for viewers using ad blockers

Wikia is not accessible if you've made further modifications. Remove the custom ad blocker rule(s) and the page will load as expected.