Mutant Ooze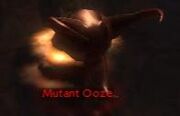 Classification
Description
The Mutant Ooze is apparently a mutant of its species if its name is any indication. Aside from that, not much else can be gathered from it.
Location
Skills used
This creature's skills are unknown. (See notes)
Items dropped
Notes
All this enemy does is run around in a pattern and never retaliates, even if it is attacked.
It is located in chamber between the Prismatic Oozes (red skull) and the Pressure Plate to the north-west of the skull (shown on map from Ooze Pit).
Ad blocker interference detected!
Wikia is a free-to-use site that makes money from advertising. We have a modified experience for viewers using ad blockers

Wikia is not accessible if you've made further modifications. Remove the custom ad blocker rule(s) and the page will load as expected.