Musician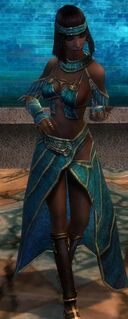 Classification
General
Musicians can be found during the Festival of Lyss, trying to entertain the guests.
Location
Dialogue
"No, no, no! The chorus begins in the seventh measure, not the eighth! My god, he'll ruin us all! One musical miscalculation and the whole performance stinks like a dead fish!"
"If one more drunkard requests "Freemoabird" I swear I'll jam my instrument up his...oh, hi!"
"I only play cover songs at events like this to pay the bills. I'm not a sellout."
"I love jumping in the caravan, traveling to strange cities, and playing at all hours of the night for a few gold coins."
Trivia
The song "Freemoabird" is very likely a reference to the American rock group Lynyrd Skynyrd's hit song "Free Bird".
Ad blocker interference detected!
Wikia is a free-to-use site that makes money from advertising. We have a modified experience for viewers using ad blockers

Wikia is not accessible if you've made further modifications. Remove the custom ad blocker rule(s) and the page will load as expected.