Mursaat Necromancer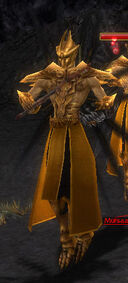 Classification
Description
These Blood Magic necromancers will spam life-stealing skills and slowly drain the party's health away if left unchecked. Make sure to interrupt them or knock them down whenever possible.
Location
Skills used
16 in Blood Magic, 12 in Curses (18 in Hard Mode)
Normal Mode
Hard Mode
Items dropped
Notes
There is a boss by the same name in Ice Floe.
See also
Ad blocker interference detected!
Wikia is a free-to-use site that makes money from advertising. We have a modified experience for viewers using ad blockers

Wikia is not accessible if you've made further modifications. Remove the custom ad blocker rule(s) and the page will load as expected.