Mursaat Guardian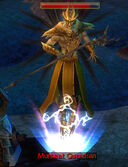 Classification
Description
Mursaat Guardians are Mursaat spellcasters that guard and defend the Seals that keep the Door of Komalie closed. At the end of the Abaddon's Mouth mission, whenever a seal is broken, a pair of Guardians will appear to attack the party. They come in any of the four Mursaat spellcasting professions.
Location
Skills used
They have the same skills as the corresponding Mursaat profession they appear in:
Items dropped
Notes
Whenever a seal is broken, a Guardian will appear behind the party (in the path the party came from) and another ahead, on the opposite stairs.
Beware of trying to fight them on the bloodstone where the Ether Seals can strike your party with their powerful Air Magic.
Ad blocker interference detected!
Wikia is a free-to-use site that makes money from advertising. We have a modified experience for viewers using ad blockers

Wikia is not accessible if you've made further modifications. Remove the custom ad blocker rule(s) and the page will load as expected.