General Information
Area: Mourning Veil Falls
Region: Echovald Forest
Description
Mourning Veil Falls is an explorable area in the area of the Echovald Forest, Cantha continent that (along with Silent Surf in the Jade Sea) has the most elite skill captures in the Factions campaign. The entire eastern half of this area is comprised of the Rijeka River and its banks, including the low waterfall from which it takes its name.
Exits
Neighbour Cities, Missions, Outposts
Neighbour Areas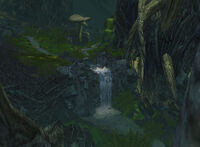 Bestiary
Monsters
Other
Tamable
Bosses
NPCs
Notes
---
Ad blocker interference detected!
Wikia is a free-to-use site that makes money from advertising. We have a modified experience for viewers using ad blockers

Wikia is not accessible if you've made further modifications. Remove the custom ad blocker rule(s) and the page will load as expected.