Morokam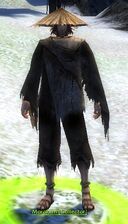 Classification
Dialogue
"I am relieved to see you. My trade caravan was traveling through these mountains on our way to Shing Jea Monastery when we were attacked by Yeti. They carried off all of our supplies, and there is no way we can make it to the monastery without them. Please, if you can bring me 3 Stolen Supplies, I will give you this in return:"
Collector Items
Morokam
Location: In Jaya Bluffs, north of Miki Lake
Collecting: 3 Stolen Supplies
Ad blocker interference detected!
Wikia is a free-to-use site that makes money from advertising. We have a modified experience for viewers using ad blockers

Wikia is not accessible if you've made further modifications. Remove the custom ad blocker rule(s) and the page will load as expected.