Mofuun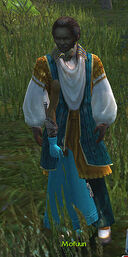 Classification
General
Mofuun is an architect.
Quests Given
Location
Dialogue
"As an architect, I have dedicated my life to mastering the lines, shape, form, and perception in order to build the greatest monuments Elona has ever seen."
Trivia
His name suggest he is "More Fun" than Elder Nofuun.
Ad blocker interference detected!
Wikia is a free-to-use site that makes money from advertising. We have a modified experience for viewers using ad blockers

Wikia is not accessible if you've made further modifications. Remove the custom ad blocker rule(s) and the page will load as expected.