Mitigan Backbreaker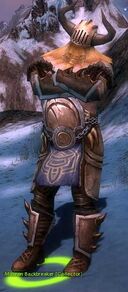 Classification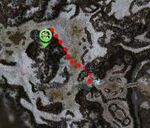 Dialogue
"Those blasted crafters! Selling our children pauldrons and helms and shields! When I was a kid, I only needed a sword, a bear skin, and a few tattoos. Tell you what, the more elemental dust you bring me, the less the crafters will have for making armor. Bring me 5 Piles of Elemental Dust, and I'll give you:"
Collector Items
Mitigan Backbreaker
Location: Norrhart Domains, a short distance northwest from Gunnar's Hold
Collecting: 5 Piles of Elemental Dust
Notes
Despite his denouncement of the use of helms, he is still wearing one.
Mitigan will also provide you with the Norn Hunting Party blessing.
Ad blocker interference detected!
Wikia is a free-to-use site that makes money from advertising. We have a modified experience for viewers using ad blockers

Wikia is not accessible if you've made further modifications. Remove the custom ad blocker rule(s) and the page will load as expected.