Mirko
Classification
Dialogue
"...But I need them to be fresh, or I'll never finish it... If they aren't fresh enough, then... no I can't even think about what that could mean. Oh, good day to you! I didn't notice you there. I'm looking for enchanted vines, but only the freshest will do. If you bring me 3 Enchanted Vines, I will give you this in return:"
Collector Items
Mirko
Location: Haiju Lagoon, in Linkei Township south of Guardsman Kikuchiyo
Collecting: 3 Enchanted Vines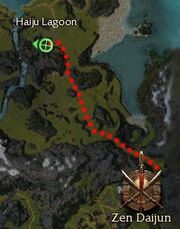 Ad blocker interference detected!
Wikia is a free-to-use site that makes money from advertising. We have a modified experience for viewers using ad blockers

Wikia is not accessible if you've made further modifications. Remove the custom ad blocker rule(s) and the page will load as expected.