Miresh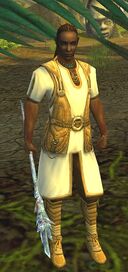 Classification
General
Miresh, the husband of Kihawa, had fallen in with the cult of the Stone Face led by Tahon.
Quests Involved In
Location
Dialogue
During quest The Cult of the Stone Face:
"..."
During quest Stone-Faced Orders:
"Ah, hello! You must be new here. I'd love to talk, but Tahon has given me an order from the Stone Face, and I must obey. I'm so busy! If you speak with Tahon instead, perhaps he can answer any questions you have."
Before collecting the reward for quest Stone-Faced Orders:
"I feel terrible about getting involved in that cult. How can I make it up to my family?"
Ad blocker interference detected!
Wikia is a free-to-use site that makes money from advertising. We have a modified experience for viewers using ad blockers

Wikia is not accessible if you've made further modifications. Remove the custom ad blocker rule(s) and the page will load as expected.